bathroom renovation, part II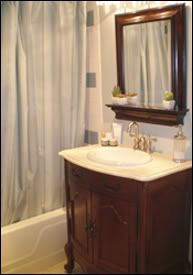 the new sink is finally in its new home. the old sink has moved on and was remembered with a moment of silence on saturday afternoon.
the wonderful building maintenance man, mark, did the removal and installation while i was out. as i was leaving saturday morning, i left mark a note of thanks and a friendly reminder to make sure he didn't accidentally let my cats out during his time in my condo.
if you know me, you know that i have two cats, sophie, the young and outgoing girl who is white with grey and orange stripes (and wears a collar) and chloe, the old and shy girl who is a seal point siamese (and doesn't wear a collar). most visitors to my condo think i only have one cat because chloe tends to hide under my bed when unfamiliar people arrive (this stems from her history of abuse and neglect before she found her way to me — a story for another time).
back to the bathroom. saturday afternoon, i received a call from mark.
"hi heather, this is mark," he began, "everything is going fine with your vanity. i did want to ask you one thing: you only have one cat, right?"
i replied, "well, actually, i have two cats, but one is probably under my bed, so you will only see the one."
"you mean sophie?" he asked.
"yes," i responded, wondering how he knew her name.
"i saw that on her collar," he started, "but the other one doesn't have a collar, right?"
"right," i answered, beginning to sense that something was amiss.
"okay, and that one is grey?" he asked.
"well, she's a siamese. her body is sort of gray," i started.
he interrupted, "with stripes on her sides?"
"no, no stripes," i said, "there's a picture of chloe by my computer, if you want to see."
"okay. let me check that out," he said.
silence.
"hmmmm. yeah, this is definitely NOT your cat," he finally said.
yes, my worst fears were confirmed. mark noticed a cat out in the hallway and assumed that one of my cats had gotten out of my condo. trying to do the right thing, he brought the cat inside. but it wasn't my cat. it was a grey striped cat and now it was loose in my condo. and he couldn't get it out.
"okay. ummm, now that i know this is not your cat, i'll take care of things. don't worry. bye," he said and he hung up the phone.
i had to finish my day out with visions of fighting cats swirling in my mind.
i was relieved to return home that evening and find exactly two cats and one new vanity in my condo.
i'll never know exactly what went on that afternoon, but based on the looks i received, chloe and sophie blamed me for everything — from the strange man to the loud noises to the striped invader — it was all my fault.
they may or may not let me share the sofa with them again.